ONLINE BILL PAY INSTRUCTIONS
As a valued XIT customer, you now have the ability to go online to pay ANY XIT bill (one-time payment or recurring payment), view bills & usage, obtain payment history and even report a trouble problem, all from the comfort of your home! We've made it easy to access and operate for your convenience!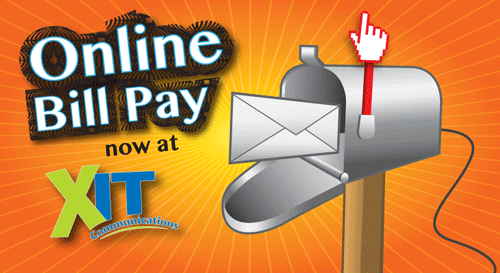 Here's how it works: go to https://billpay.xit.net
You will have to register your account before logging in for the first time. Click on "Click here to register" to get started.
Note: You will need to know your XIT Account Number and CPNI Password in order to register online.
You will then put in your XIT Account Number, Account Password (CPNI Password in lower- case letters, no capital letters) and Account Name.

On the same screen, you will also enter your email address, and create a user name and a password.
Note: User name can have no special characters or symbols. (Ex. @ ! $ # * &)
Password must be a minimum length of 6 characters, a maximum length of 8 characters. It must have at least 5 letters and at least 1 number in it. Make sure to keep a record of your user ID and password for future use.

Then click on the Register Button.

You will then be prompted to answer 2 additional security questions from a drop down list. When you are finished, click on the Save Button.

Once you have finished registering, you will have 2 options on the screen, to go directly into My Account or to Set Up Bill Pay. You can also set up the bill pay options from My Account.
If you choose My Account, it will then take you directly into your online billing information screen.
Here are all the options available to you on the main billing information screen. Click on the option you want to go into for that specific account information:
My Account - shows the current charges due on your account and the last payment showing on the account.
Edit Profile - allows you to change your name, password, email address and security question answers.
View/Print Your Bill - allows you to view and/or print the last 18 months of bills.
Call Details - shows long distance calls for the current month's billing and up to the last 18 months of bills.
View One Time Charges & Credits - shows specific charges and credits that are not billed monthly.
Payment History - shows payment history of the last 50 payments on the account.
Report a Problem - allows you to submit a trouble ticket for problems with any of your XIT services.
Schedule a Monthly Payment - allows you to set up monthly recurring payments with a bank draft or credit card on your XIT account.
Make Payment - allows you to set up and make a 1-time payment (not recurring) on your XIT account.
Sign Out - logs out of the online system.
You now have your online account set up and ready for action!
If you encounter any problems or questions with the online billing or bill pay, please feel free to contact us at 806-384-3311 or 1-800-232-3312, and one of our Customer Care Representatives will be happy to assist you!