WatchTVeverywhere (WTVE) is a service that allows XIT TV subscribers to watch TV programs on devices other than a TV set. This can include a PC, a laptop, tablet, smartphone or other compatible devices. XIT TV subscribers can enjoy their favorite TV shows, live sporting events and movies anywhere in the U.S. where an Internet connection is available. Best of all, the service is FREE!
As long as subscribers receive the TV channel in their "regular" TV channel lineup, they may view that network's TV Everywhere content, if it is available on the WTVE Portal. For example, a subscriber must have the NFL Channel in their XIT TV lineup in order to watch the NFL Network's watchTVeverywhere programs.
To use watchTVeverywhere, you must be able to access an Internet connection. If using a smartphone or wireless network to watch TV, be aware that WTVE programs transmit a lot of data. This can be expensive if the data plan is limited. Check with your carrier on data packages and usage before watching TV. You are responsible for all charges billed to you by your mobile carrier!
---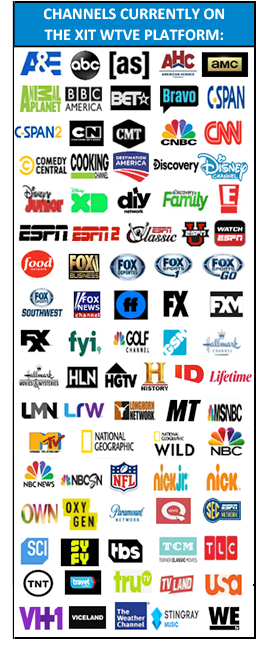 WatchTVeverywhere
Q & A
Where can I watchTVeverywhere?
You can watch it anywhere you can receive an Internet signal: in your house, backyard, at work, at the mall, at a hotel, the airport, a vacation home - ANYWHERE! Wired connections and in-home Wi-Fi will provide the best overall quality. The quality of WTVE service when traveling will vary on the signal strength and bandwidth of the Internet connection you use.


Each TV network makes their own decision about what to offer on WTVE. ABC & NBC offer full episodes of their shows, but do not offer live feeds because XIT is not an owned & operated station of the networks.


Nearly all WTVE programs are available on all devices (PC, laptop, tablet and smartphone). Some networks may not have all their programs available on all devices though.


Yes! We are working with many different programming providers to expand the number of networks, and the number of shows available on watchTVeverywhere.


Visit www.watchtveverywhere.com. Click "Log In" and enter your user name and password. Click on the TV network you want to watch, and you'll see a list of available programs.


There's no limit to the number of devices; however, TV networks may limit the number you can use at one time. Keep your username and password confidential. Use of your credentials by others will result in the loss of your WTVE privileges.

It's FREE. There's no extra monthly charge to use it.
It has full episodes of current shows. For instance, episodes of The Closer and Leverage on TNT are available within days of their premiers on watchTVeverywhere.
Hulu and Netflix only offer previously recorded shows. WTVE offers many channels with live feeds including: A&E, Adult Swim, AMC, American Heroes, Animal Planet, BBC America, C-Span, Cartoon Network, CNBC, CNN, Cooking, Destination America, Discovery, Disney, Disney Jr., Disney XD, DIY, E!, ESPN, ESPN2, ESPNU, ESPN Classic, Food, Fox Business News, Fox News, Fox Sports 1, Freeform, FX Network, FX Movie Channel, FXX, Golf, Headline News, HGTV, ID, Longhorn, MSNBC, National Geographic, Nat. Geo Wild, NBC Sports, NFL Network, QVC, Science, SEC, Syfy, TBS, TCM, TLC, TNT,
Travel, TruTV, USA, Velocity, WE & The Weather Channel. Other channels may decide to offer live feeds at a later date.
To register for watchTVeverywhere you will need:
1. Your XIT account number (numbers only)
2. The last name on your XIT account
3. Valid email address
Click here to get started watching WTVE today!
---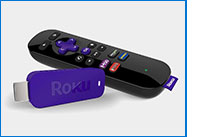 So what is a Roku Streaming Stick? It is a compact stick similar to a flash drive that plugs into the HDMI port on most TVs. It gives customers the ability to watch more than 1200 channels of entertainment, including movies, TV episodes, music, news, sports, kids' shows and other programming (free and paid), all in 1080P HD video. The Roku Stick streams from your broadband Internet service and works through your TV. Use the included Roku remote control to access the sleek and easy-to-use Roku user interface with shortcuts to movies, TV shows, Netflix, and more. The Roku Streaming Stick can also be purchased at any of the XIT office locations for $49.99 plus tax.
New customers who activate 50/25 Mbps or higher Internet service, or existing customers who upgrade their existing Internet speeds can get a FREE Roku 3930R Streaming Stick.
XIT Communications is excited to continue this promotion and to give our customers a new option in TV watching. Come by one of our offices today, and let us show you our always-fast, always-on, broadband high-speed Internet plans and introduce you to the Roku! Then, you can be one of the many that say, "I Roku Too!"

High Speed Internet
The fastest, most reliable connectivity. >>Learn More

XIT IPTV
New services and channel lineup coming soon. >>Learn More

Long Distance
Feel closer than ever with our long distance plans. >>Learn More

Local Phone
The biggest value in basic phone service. >>Learn More